This is an archived article and the information in the article may be outdated. Please look at the time stamp on the story to see when it was last updated.
For years, Garth Callaghan has been writing notes on napkins that go in his daughter's lunchbox. They're usually inspirational quotes or simple messages — "This week is going to be awesome! Don't forget to do your part!" — that give father and daughter a moment to connect during the day.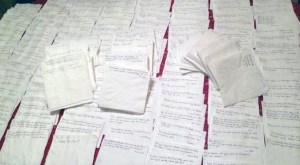 He wants to make sure 14-year-old Emma gets a note every day until she graduates from high school — even if he's no longer around to write them.
Callaghan has been diagnosed with kidney cancer, and he's not sure how long he has to live. So he's in the process of writing 826 notes that, if needed, can be doled out to Emma once he's gone.
After contacting the nonprofit Because I Said I Would in November, Callaghan started writing not just daily notes, but also notes for the future, the organization's founder, Alex Sheen, told the Los Angeles Times. By the end of last week, he had completed 740.
Click here to read the full story at LATimes.com.