This is an archived article and the information in the article may be outdated. Please look at the time stamp on the story to see when it was last updated.
Metro passengers had to use buses instead of the train for several miles in Pasadena on Friday due to damage caused by a crash, according to Metro.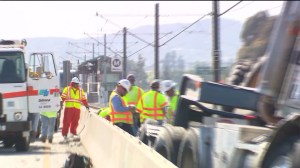 After a big rig and box truck collided Thursday afternoon, the Metro Gold Line was temporarily shut down.
"The damage is very extensive and the track is damaged also," Metropolitan Transportation Authority spokesman Luis Inzunza said. "As well, there might be some hazmat material that needs to be cleaned; fluids, gasoline, oil."
The Metro Gold Line continued service Friday but transferred passengers to shuttle buses between the Lake, Allen and Sierra Madre Villa stations, according to the Metro website.
By Friday evening, repair teams had cleared one of the tracks between Sierra Madre Villa and Lake stations, allowing limited service to be restored between those stations, the agency said in a news release.
Trains will run every 10 minutes between Atlantic and Lake stations, while trains serving Allen and Sierra Madre Villa will run every 20 minutes, the release stated.
Metro advised passengers to allow extra time for their commute.
During the crash a big rig veered over the center median, hit a power pole, then stopped on the Metro tracks, California Highway Patrol Officer Kerri Rivas said at the time.
Two people were injured during the collision and parts of the 210 Freeway was closed until Friday morning.
The time needed for repairs and cleanup was not immediately known.
KTLA's Lynette Romero contributed to this report.