This is an archived article and the information in the article may be outdated. Please look at the time stamp on the story to see when it was last updated.
DANA POINT, Calif. (KTLA)  — A retired teacher was recovering Wednesday after being struck by shrapnel from a stray bullet fired from the condo next door.
It happened Tuesday around 10 p.m. at a condo complex in the 25000 block of Quail Run.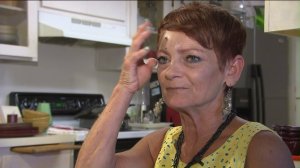 Laurie Horton was sitting at her kitchen table working on a scrapbook for her granddaughter when a bullet pierced the wall.
A piece of shrapnel from the round struck Horton in the forehead.
"It felt as though somebody had hit me with a baseball bat," Laurie Horton said.
Lori's husband, Jim, said his wife was covered in blood and had shrapnel in her forehead.
Moments after the shooting, a neighbor knocked on their door.
The neighbor, who did not want to be identified, told KTLA he was returning his new AR 15 rifle to the safe when it discharged.
"It's brand new.  I picked it up that day.  I was putting it together trying different parts on it," he said.
It was unlikely the gun owner will face charges.
"The investigation so far indicates everything was an accident," Lt. Jeff Hallock said.