This is an archived article and the information in the article may be outdated. Please look at the time stamp on the story to see when it was last updated.
A 27-year-old Los Angeles man known as one of the dancing hamsters in a series of Kia car commercials was arrested for alleged collecting state disability insurance benefits under false pretenses, state insurance officials announced Wednesday.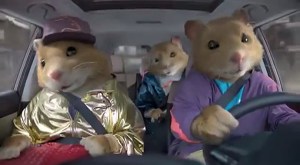 Leroy Barnes was accused of deceiving his doctors about his employment status while he received disability benefits, according to Insurance Commissioner Dave Jones.
"Fraudulently collecting disability benefits is not only illegal, it disrespects legitimately injured Californians who are unable to work," Jones said in a statement.
Barnes was struck by a piece of ceiling during a sound check in 2010 at a West Los Angeles studio while working as a dancer for John Cossette Productions, state officials said.
From September 2010 to September 2011 Barnes received state disability insurance benefits totaling more than $51,000, the statement read.
Barnes allegedly stating falsely that he was not employed during the year he received state disability insurance.
It was during this period of time that investigators said Barnes starred in a Kia car commercial playing the role of a dancing hamster.
Barnes also allegedly performed with a rap group called The Rej3ctz, under the alias MoWii, and worked as a backup dancer for Madonna, Kelly Rowland, and Chris Brown under the name Hypnosis, authorities said.
Fraud investigator Ted Koerner had been investigating disability fraud cases for years.
He said $10 billion is paid out annually in California on fraudulent claims.
"Eighty percent of the money spent to treat people who are claiming work related injuries is going to pay for the people who never get any better," Koerner said.
"Why don't (they) get any better? There is nothing wrong with them," he said.
Barnes was due to appear in court on July 2.