This is an archived article and the information in the article may be outdated. Please look at the time stamp on the story to see when it was last updated.
Dramatic security video of a shooting inside the Las Vegas Bally's Hotel and Casino that left one man dead and two others wounded was released Wednesday.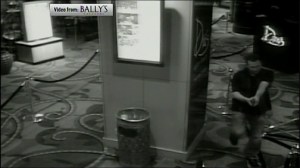 The video showed a man, believed to be 42-year-old Benjamin Frazier, as he made his way through the casino on Oct. 21.
The man in the video opened fire on two security guards at the entrance of a night club before heading to the casino.
That's when 40-year-old Kenneth Brown, a comedian from Southern California, tackled him to the ground, according to authorities.
The video showed the two men wrestling on the ground until the gun went off, killing Brown.
Frazier was charged with one count of murder and two counts of attempted murder in the case.
The security video was expected to be used as evidence to determine whether Frazier could face the death penalty.
Frazier allegedly was in an argument with a security guard over a cover charge prior to the deadly shooting, the New York Daily News reported.
The argument was also recorded on a security camera, according to the newspaper.