This is an archived article and the information in the article may be outdated. Please look at the time stamp on the story to see when it was last updated.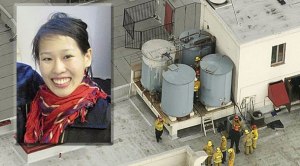 LOS ANGELES (KTLA)  — The death of a Canadian tourist whose body was found in hotel water tank was ruled an accidental drowning on Thursday.
Elisa Lam, 21, of Vancouver, British Columbia, was last seen at the Cecil Hotel on Jan. 31.
Several weeks later, hotel guest began complaining about weak water pressure and flooding.
Those complaints led a hotel maintenance worker to check on a large tank on the roof, where he found Lam's body.
Coroner's officials noted that the medical examination found no visible signs of trauma on the body and toxicology tests found nothing that contributed to her death.
Police searched the roof of the Cecil with the aid of dogs when Lam was initially reported missing.
"We did a very thorough search of the hotel," LAPD Sgt. Rudy Lopez said.
"But we didn't search every room; we could only do that if we had probable cause that a crime had been committed, Lopez said.
Lam arrived in Los Angeles on Jan. 26.
She was traveling alone, but had been in contact with her parents daily before her disappearance.
The coroner's report indicated Lam suffered from a significant bipolar disorder, but did not elaborate.