This is an archived article and the information in the article may be outdated. Please look at the time stamp on the story to see when it was last updated.
A Hollywood Hills home's backyard slid downhill toward three residences below, prompting an emergency response Monday evening.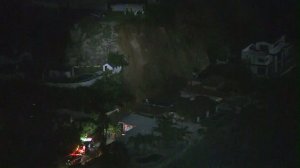 Aerial video from Sky5 showed fire engines responding to homes on Laurel View Drive, which sits above Laurel Canyon Boulevard at Hollywood Boulevard. Firefighters were shining flashlights on the hillside that appeared to show the slide area.
Los Angeles Fire Department spokesman Erik Scott said debris flow in the 8100 block of Laurel View was affecting three homes, and no injuries were reported. LAFD was called to the scene at 5:30 p.m.
Multiple 911 calls reported a mud slide, and at least one caller said he or she was not able to get out of the house, Scott told KTLA.
A hillside home's backyard "slid into two houses below," Scott said. Power lines were taken down and electricity was out in the area, he said.
"This could have been much worse," Scott said. "We have predominantly backyards that are affected. Some individuals that were trapped, but we're evacuating them out now."
Five homes were evacuated as a precaution and urban search-and-rescue teams were responded.
No one was injured in the incident, according to the LAFD.
The response comes nearly three weeks after the foundation of an aged home fell down a rain-soaked hillside onto Laurel Canyon Boulevard below. The roadway, a crucial connector between West Hollywood and the San Fernando Valley, was closed for several days. That incident occurred only about a half-mile from Monday's debris flow.
Traffic appeared to be impacted on Monday, and Twitter users were warning fellow drivers to avoid the area.