This is an archived article and the information in the article may be outdated. Please look at the time stamp on the story to see when it was last updated.
HOLLYWOOD, Calif. (KTLA) — Dozens of protesters marched in the heart of Hollywood Sunday to demonstrate against proposed U.S. military intervention in Syria.
Estimates of 100 people gathered at the intersection of Hollywood Boulevard and Highland Avenue for the rally.
The protest remained largely peaceful, police said.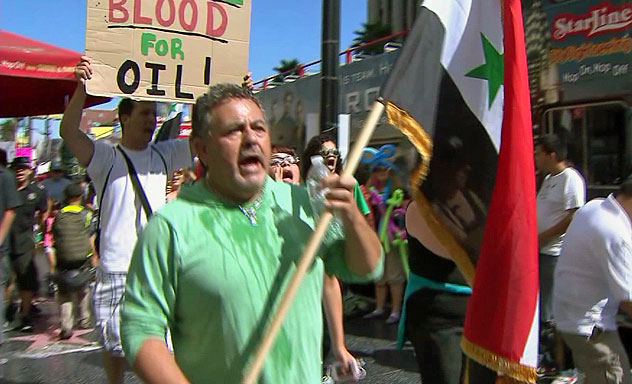 The demonstrators carried signs calling for peace and chanted, "Hands off Syria."
On the organizers' Facebook page, a post read "We will rally on Sunday September 8th, the day before the U.S. congress returns from recess on Monday September 9th to debate military intervention in Syria."
Pictures posted to the page showed LAPD officers on horseback and on bicycles monitoring the rally.
There were no reports of any arrests.