This is an archived article and the information in the article may be outdated. Please look at the time stamp on the story to see when it was last updated.
Former basketball star Dennis Rodman arrived in Pyongyang Tuesday on a five-day visit amid speculation he may try to negotiate the release of jailed U.S. citizen Kenneth Bae, China's Xinhua news agency reported.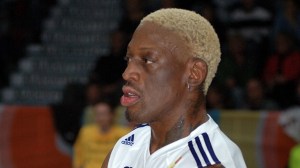 In Beijing, the gateway for flights to Pyongyang, Rodman told Reuters he was on another "basketball diplomacy tour" and would not be discussing the release of Bae.
"I'm not going to North Korea to discuss freeing Kenneth Bae," Rodman told Reuters in a telephone interview before he left Beijing for Pyongyang. "I've come out here to see my friend (Kim) — and I want to talk about basketball," he added.
Later pushing through a throng of journalists at Beijing airport, the 6 foot 7 inch (2.01 meter) former basketballer said: "I'm just trying to go over there to meet my friend Kim, the Marshal. Try to start a basketball league over there, something like that."
Click here to read the full story on CNN.com.