This is an archived article and the information in the article may be outdated. Please look at the time stamp on the story to see when it was last updated.
Deputies rescued three men who became trapped after their sailboat crashed onto rocks near Marina del Rey amid gale force winds on Saturday evening, authorities said.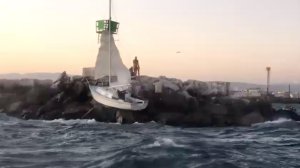 The rescue took place about 7 p.m. after the boat crashed amid stormy conditions and gale force winds on rocks at the breakwater of the marina, according to Los Angeles County Sheriff's Department Sgt. Brent Carlson.
Deputies Josh May and Glenn Maska responded to the crash in a rescue boat, sheriff's officials said in a written statement.
"Deputies May and Maska were able to rescue all three aboard the crashed boat and tend to their wounds while transporting them safely to Marina del Rey station, where they handed them over to waiting ambulance and fire department personnel," the statement said.
The men were bleeding badly from cuts on their legs due to being battered against the rocks by waves, Carlson said. But they did not appear to have suffered any major injuries.
"Thanks to the dangerous and heroic efforts of Deputies May and Maska these three men's lives were saved," the statement said.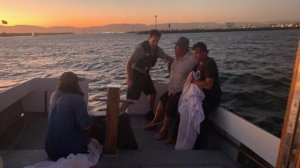 On September 7, 2019 at 7:00 pm, amongst gale force winds and small craft warnings, @MDRLASD rescue boat deputies Josh May and Glenn Maska battled the stormy weather and responded to a sailboat that crashed on the rocks saving the lives of three passengers on board. @LASDHQ pic.twitter.com/2sPI0iXHJ4

— LASD Marina del Rey (@MDRLASD) September 8, 2019