This is an archived article and the information in the article may be outdated. Please look at the time stamp on the story to see when it was last updated.
Sheriff's deputies shot and killed a man in City Terrace early Tuesday, authorities said.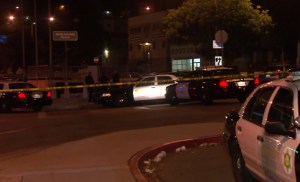 The shooting occurred about 1:30 a.m. in the 1200 block of Miller Avenue, according to the Los Angeles County Sheriff's Department.
Deputies had been en route to a location where a domestic violence incident was reported when they were flagged down by a pedestrian, who said a man with a gun was in the area.
Moments later, the deputies heard a gunshot and moved toward the sound to investigate, authorities said. They then encountered a man who fit the description provided by the pedestrian.
"Deputies made contact with that individual," sheriff's Lt. Dave Coleman said. "A struggle ensued, at which time the suspect produced a handgun and a deputy-involved shooting occurred."
The man was shot multiple times at close range and was pronounced dead at the scene, sheriff's Deputy Aura Sierra-Lidman said in a statement.
"Whenever an officer-involved shooting occurs involving Los Angeles County sheriff's deputies and it results in the death of a suspect, multiple independent investigations immediately begin at the scene," Sierra Lidman said. These include separate investigations by the district attorney's office and sheriff's internal affairs and homicide bureaus.