This is an archived article and the information in the article may be outdated. Please look at the time stamp on the story to see when it was last updated.
LOS ANGELES (KTLA) — An arraignment was continued on Wednesday for a Los Angeles County Sheriff's deputy accused of rape and soliciting bribes.
Deputy Jose Rigaberto Sanchez, 28, was expected in court next on Aug. 7.
Sanchez was arrested Monday evening at his home in Sylmar. He was being held on $1.4 million bail.
He was facing 11 felony counts, including soliciting a bribe, kidnapping to commit another crime, rape under fear or duress and multiple counts of sexual assault under the color of authority.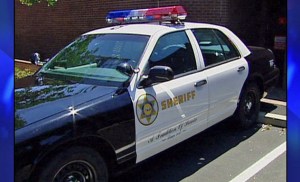 Sanchez, a seven-year veteran of the sheriff's department, was most recently assigned to the Palmdale Sheriff's Station.
He was alleged to have committed the acts in 2010 while on duty, according to a statement from the department.
One alleged incident occurred on the night of Sept. 22, 2010, after he pulled over a female driver in Palmdale.
Sanchez allegedly offered to not arrest her on an outstanding warrant in exchange for sex.
Then, two nights later, he pulled over another woman on suspicion of DUI and allegedly solicited a bribe in the form of sexual activity.
A six-month investigation into the alleged crimes began after a tip from an informant, sheriff's spokesman Steve Whitmore said.
The case was turned over to the L.A. County District Attorney's Office in January 2011.
Sanchez was relieved of duty with pay after the alleged incident in 2010, sheriff's officials said. It wasn't until he was arrested on Monday that he was taken off the payroll.
"Obviously we're not happy about it, and I'm not happy about it," Sheriff Lee Baca said on Tuesday.
"We have to recognize that those types of investigations have to be done the right way," Baca said.
"We believe that we've done it the right way, and the district attorney obviously agrees," he said, adding, "There will be a prosecution."