This is an archived article and the information in the article may be outdated. Please look at the time stamp on the story to see when it was last updated.
For 34 years, Gwendolyn Beasley worked as a clerk at the Detroit Public Library and paid a portion of her salary into a fund that would someday help pay for her pension.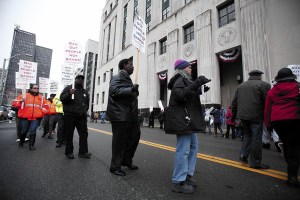 Now retired, Beasley, 67, receives $1,500 a month from that pension. But she's cutting back on spending after a judge ruled last week that Detroit's pension funds, like other city creditors, may have to take a hit as the city reorganizes its finances under bankruptcy.
"I think it's so very unfair," Beasley said. "We retired expecting to get a certain amount of benefits. Now you've pulled the rug out from under us."
It's not just Detroit retirees who are worried about their pensions. Financially troubled cities in California, Illinois and Pennsylvania will soon face decisions on what to do with chronically underfunded pension funds, and experts say the Detroit ruling has made it easier for cities to argue that pensions must be cut.
Click here to read the full story on LATimes.com.