This is an archived article and the information in the article may be outdated. Please look at the time stamp on the story to see when it was last updated.
Investigators are combing an area of Griffith Park near the Hollywood sign on Sunday as they search for more bones after a skull found the previous day was confirmed to be human, according to LAPD.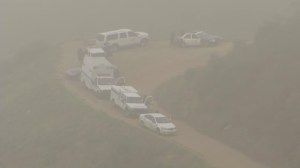 After the sun rose, multiple agencies and search teams arrived in the L.A. city park to process the scene and continue an investigation that started Saturday afternoon when two hikers found the remains near the Brush Canyon and Mulholland trails.
They were apparently trying to cut across one of the trails when they stumbled upon the skull, according to Los Angeles Police Department Lt. Ryan Schatz.
"There is part of a trail there, it's quite some distance from the main trail, but there is a small trail that goes in – I think they were trying to … blaze a path between the main trails. That's how they came across it," Schatz said, describing the scene.
Homicide investigators, as well as the Los Angeles County coroner's office, responded after the discovery was reported, according to Schatz. Coroner's officials recovered the top half of the skull, but the operation was suspended overnight due to darkness.
"They're going to go out and fully process the scene because the area is very dense with brush and overgrowth." Schatz said. "It's not something they can handle during the hours of darkness."
An LAPD homicide unit, the Los Angeles County coroner's office, cadaver dogs and specialized forensics unit will be out on Sunday processing the scene and looking for more possible body parts, according to the lieutenant.
There was no information about the person's age and gender; the only description Schatz provided of the skull was that "it appeared to very old."
A cause of death would be determined later.
Part of Brush Canyon trail was closed Sunday morning amid the ongoing investigation.
The trail can be accessed from the popular Bronson Canyon area, according to a park ranger.
Bronson Canyon was where authorities discovered body parts, including a decapitated head, in 2012. A 40-year-old man was convicted last October of first-degree murder in the case.
A human skull was also found in Griffith Park in 2010, the Los Angeles Times reported.