This is an archived article and the information in the article may be outdated. Please look at the time stamp on the story to see when it was last updated.
Just days ahead of Memorial Day weekend and the unofficial start of summer, Disneyland on Sunday quietly raised its ticket prices and suspended new sales of one of its popular annual passes.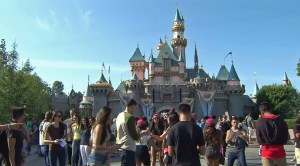 New prices posted to theme park's website showed that a one-day, one-park ticket to Disneyland or California Adventures will now cost visitors ages 10 and up $96, an increase of $4. A one-day park hopper pass, which grants access to both Disneyland and California Adventures, costs $150, up $13 from the previous price.
Disneyland also boosted the cost of its annual passes while also suspending sales of its popular Southern California annual pass, which allowed pass holders into both parks on Sundays. Only those who have the pass already will be able to renew it at its new increased price of $379. The Southern California Select annual pass — a cheaper option at $289 — is still available for purchase, but it cannot be used on weekends.
Prices for the Deluxe annual pass, which can be used on Saturday and Sundays, now cost $519. The most expensive option, the Premium annual pass, has no blockout days and includes the cost of parking, and can be purchased for $699.
The cost of parking also went up, with a single day of parking costing $17 for cars and motorcycles.
In a departure from previous years, Disneyland did not give any advance warning before the price increase went into effect. As of early Sunday afternoon, the official Disneyland Resort Twitter account also gave no notice that ticket prices had gone up.
The latest boost in prices occurred just five days before Disneyland's planned "Rock Your Disney Side" 24-hour event. On Friday, the park is scheduled to open at 6 a.m. and close at 6 a.m. the following day, according to Disneyland's website. The park also stayed open for 24 hours straight the Friday before Memorial Day last year.
"It's really sad because … with families, where can you go?" said Rita Webb, standing outside of the theme park in Anaheim. "This is supposed to be a trip for kids and families."