This is an archived article and the information in the article may be outdated. Please look at the time stamp on the story to see when it was last updated.
It is often touted as "the happiest place on earth," but those who visited Disneyland following an unannounced increase in admission costs on Sunday said they were less than happy about the new prices.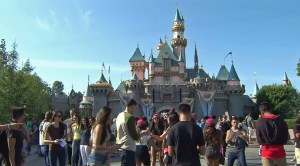 Disneyland quietly implemented the new higher prices, posting on its website overnight that a one-day, one-park ticket to Disneyland or California Adventures for visitors ages 10 and older was $96, up from $92. And a one-day park hopper pass allowing visitors into both Disneyland and California Adventures will cost $150, up $13 from the previous price.
Prices also went up on children's tickets, with a single-day pass to one park being sold for $90 and a single-day pass to both parks costing $144.
The cost of annual passes also went up across the board. Perhaps the most notable change though is that Disneyland appears to have suspended sales of its Southern California Annual Passport, popular in part because it was a lower-priced priced option that allowed pass holders into the park on Sundays. As of Monday, Disney's website said the pass "was not available for purchase," leaving those who wanted to buy an annual passport to decide between a more expensive option that allows weekend access and a cheaper pass which does not.
"It's really sad, because anymore with the families you can't, where can you go? I mean, this is supposed to be a trip for kids and families and it's kind of sad," said Rita Hayes, who visited Disneyland on Sunday.
The new prices were enough to deter at least some people from going to the popular entertainment attraction. Tina Hayes visited Disneyland after the new prices went into effect, but she said her parents would no longer go because it was simply too expensive.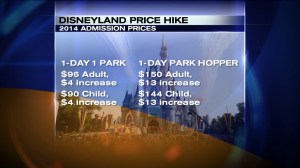 "They won't do it," she said. "To stand in long lines and pay a million dollars just to go for one day."
For the past few years at least, Disneyland has raised its prices once during the year, so a rate increase wasn't entirely unexpected.
However, some were upset that the company did not give notice before increasing the cost of admission as it has done in previous years. And others said they weren't even aware that the prices had gone up until they went to buy their ticket.
"It makes sense to at least inform people, give them a heads up," said Luis Ortega, who visited the theme park on Sunday. "Give them the opportunity to save more money or the choice to go somewhere else."
Disneyland defended its decision to increase its rates, saying in a statement that it was simply a business decision.
"Like any business, we periodically evaluate our prices and make adjustments," the statement read. "A ticket to our theme parks represents a great value."
The Disneyland price increase came just ahead of Memorial Day weekend, marking the unofficial start of summer. The new prices also went into effect just five days before Disneyland's planned "Rock Your Disney Side" event on Friday, in which the park will be open for 24-hour consecutive hours beginning at 6 a.m.
KTLA's Eric Spillman and Elizabeth Espinosa contributed to this report.