This is an archived article and the information in the article may be outdated. Please look at the time stamp on the story to see when it was last updated.
WESTMINSTER, Calif. (KTLA) – The Orange County District Attorney's Office asked the public for help Monday in locating additional possible victims of a Disneyland worker accused of sexually assaulting a young girl on four different occasions.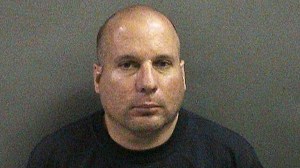 Bryan William Anast, 45, of Corona, was charged on suspicion of having sex with an 11-year-old female relative between Nov. 1997, and Nov. 2000, according to the DA's office.
Orange County sheriff's deputies arrested Anast at Disneyland, where he worked as a machinist fixing rides, after the victim reported the alleged assaults to the sheriff's department in May 2013.
In a search of Anast's home, investigators said they found several child pornography videos stored on a computer data device that belonged to him.
Anast was charged with four felony counts of aggravated sexual assault of a child, one felony count of possession and control of child pornography, and a sentencing enhancement allegation for forcible sex crimes.
The charges carried a maximum sentence of 63 years to life in state prison and a mandatory lifetime sex offender registration.
Anyone with additional information or who may have been a victim was asked to contact investigators at 714-347-8794.