This is an archived article and the information in the article may be outdated. Please look at the time stamp on the story to see when it was last updated.
COSTA MESA, Calif. (KTLA) — Hundreds of friends, co-workers and family members gathered in Costa Mesa on Wednesday to pay their respects to a slain Newport Beach doctor and father of two.
Dr. Ronald Gilbert, who would have turned 53 on Wednesday, was shot and killed Monday in an exam room at his medical practice, Orange Coast Urology.
At the same time on Wednesday, a 75-year-old retired barber was charged with shooting and killing the respected urologist.
Stanwood Fred Elkus, 75, of Lake Elsinore, is charged with one count of special circumstances murder by lying in wait, with a sentencing enhancement for the personal use of a firearm causing death.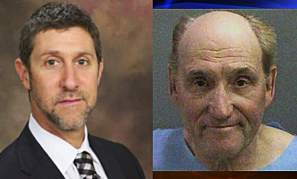 Elkus is being held on $1 million bail. If convicted, he faces a minimum sentence of life in state prison without the possibility of parole.
The deadly shooting happened around 2:45 p.m. Monday at the Hoag Health Center at 520 Superior Ave., according to Newport Beach police.
Police say Gilbert was shot six to seven times in the upper torso. He was pronounced dead at the scene.
According to the Orange County District Attorney's office, Elkus made an appointment with the doctor, waited in the exam room and then killed him.
After shooting the doctor, prosecutors say Elkus handed the gun to office staff and waited for police. He surrendered without incident.
Authorities have not yet commented on a possible motive for the murder.
It was originally believed that Elkus was a disgruntled former patient of Dr. Gilbert, but it's now unclear if he was even under the slain doctor's care.
Family members who spoke exclusively to KTLA said that Elkus was bitter over issues with his prostate.
"Approximately 20 years ago, he had a procedure done, and the doctor — the urologist — apparently nicked his prostate," said one close relative, who did not want to be identified.
"He wouldn't have sex. He'd have to go to the bathroom seven, eight times a night. He'd have to use a catheter," the relative explained.
"It was an unbelievable inconvenience for him, and he's been very angry, you know, hostile," he added.
"I think he used that doctor as symbolic of his frustration. It's very sad when somebody that you know has done such a terrible thing."
Elkus is described by his family as frugal, politically opinionated and a gun enthusiast who enjoyed hunting and fishing.
But they also say that he was a gentle man, who they didn't think was capable of violence.
That is, until yesterday, when they say he called them and admitted that he had shot and killed Dr. Gilbert.
"He indicated very calmly that he had shot a man and that he was going to jail," the relative told KTLA.
Neighbors told similar stories about Elkus' ongoing medical problems.
"He was always complaining of being sick and going to the doctor and stuff like that. He had prostate problems," neighbor Sherry Martin said.
"I know he didn't like his doctor becasue of his prostate problem," said another neighbor, James Lord. "He was always going there every weekend or once a month or something."
Meantime, people who knew Gilbert say they're stunned by what happened.
"I couldn't imagine what a 70-year-old man could possibly do to Dr. Gilbert, he's the best there is," said Dr. Jeffrey Lauber, whose office is two doors down.
"I've got goosebumps all over. It's worse than hives," he added. "I can't believe… I've known Ron personally for about 20 years… This is not a good thing."
Gilbert was a graduate of UCI College of Medicine in 1987, and had been a practicing physician and surgeon since 1989, according to the California Medical Board.
The website for Orange Coast Urology said he was married and had two children.