This is an archived article and the information in the article may be outdated. Please look at the time stamp on the story to see when it was last updated.
A Dodge Challenger crashed into four pedestrians on a sidewalk and killed three of them Sunday night in Bloomington, authorities said.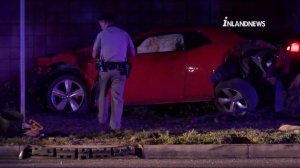 The deadly crash occurred at 8:35 p.m. when the Dodge headed eastbound on Slover Avenue east of Locust Avenue and veered out of control, said Sam Griffith of the California Highway Patrol.
The car went onto the north sidewalk east of Slover and struck four pedestrians walking along, Griffith said.
Three of the four pedestrians were pronounced dead at the scene, he said.
A fourth person was transported to a hospital in unknown condition, Griffith said.
It's undetermined if alcohol played a factor in the crash, he said.
Initially, the CHP reported the crash at 18261 Slover Avenue with Slover and Locust closed and Slover and Maple Avenue shut down.
The California Highway Patrol is investigating.