This is an archived article and the information in the article may be outdated. Please look at the time stamp on the story to see when it was last updated.
THERMAL, Calif. (KTLA) — The quick action of a train engineer in Riverside County is being credited for saving a puppy's life.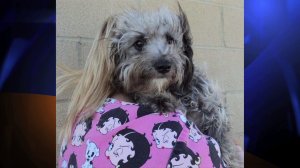 He applied the train's emergency brakes when he saw a man walking away and leaving the 10-month-old poodle-terrier mix tied to the tracks near the town of Thermal.
Police say the suspect is a 78-year-old man. He apparently told Union Pacific Railroad authorities that he no longer wanted the dog.
They say no animal cruelty charges will be filed becasue he showed signs of mental confusion, and did not fully understand what he had done.
The dog, named Banjo, is healthy and ready for adoption at the Riverside County Animal Services shelter in Thousand Palms.
Anyone interested in adopting Banjo should contact the shelter at shelterinfo@rivcocha.org.