This is an archived article and the information in the article may be outdated. Please look at the time stamp on the story to see when it was last updated.
LOS ANGELES (KTLA) — A camp ranger who called 911 after being carjacked by Christoper Dorner is seeking the entire $1.2 million reward that was offered in the case.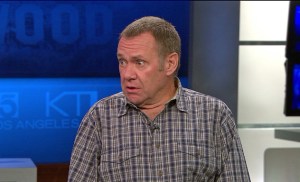 Rick Heltebrake, 61, of Angelus Oaks, filed a claim to collect the reward through a law firm.
Heltebrake, who is a scout ranger at Camp Tahquitz, was on Glass Road heading toward Highway 38 on Feb. 12 when Dorner carjacked his pickup truck.
In the claim, he says his subsequent 911 call helped police track Dorner to the cabin where the fugitive former cop killed himself during a fiery standoff.
Los Angeles Police Department Chief Charlie Beck says that decision about the reward won't be made until the investigation is complete.
Dorner killed four people during a rampage to exact revenge for his firing from the LAPD years earlier.