This is an archived article and the information in the article may be outdated. Please look at the time stamp on the story to see when it was last updated.
IRVINE, Calif. (KTLA) — One of the first victims of former LAPD officer Christopher Dorner was remembered on Sunday.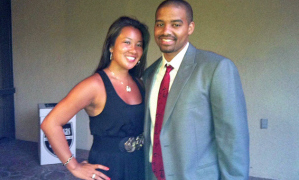 A private funeral was held for Monica Quan, 28.
Quan and her fiance, 27-year-old Keith Lawrence, were found shot to death on Super Bowl Sunday atop the parking structure of their Irvine condo complex.
They had gotten engaged only days before.
Quan was the assistant coach for the women's basketball team at Cal State Fullerton, and Lawrence was an armed public safety officer at USC.
Quan was the daughter of former LAPD captain Randy Quan, who was mentioned for Dorner in an online manifesto.
Randy Quan had apparently represented Dorner in the process that led to his termination from the LAPD.
In his manifesto, Dorner railed about being unfairly fired and promised to exact revenge, saying he had to kill in order to clear his name.