This is an archived article and the information in the article may be outdated. Please look at the time stamp on the story to see when it was last updated.
NEW YORK — Fresh doubts over the U.S. economic recovery pushed the stock market closer to a long-awaited correction as investors worried about global growth.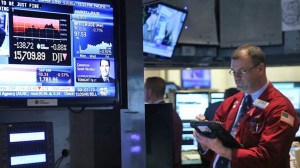 The Dow Jones industrial average plummeted 326 points on Monday as the index of blue-chip stocks continued the steep sell-off from January.
The Dow fell 326.05, or 2.1%, to 15,372.80 on Monday, its worst day this year. The Dow has shed more than 1,200 points so far this year.
The broader Standard & Poor's 500 index fell even harder, losing 40.70 points, or 2.3%, to 1,741.89. For the year, the S&P 500 is down about 6% — the most it has fallen since late May to late June of last year, according to S&P Capital IQ.
Click here to read more at latimes.com.