This is an archived article and the information in the article may be outdated. Please look at the time stamp on the story to see when it was last updated.
At least 24 students were recovering Sunday after they were injured when a stage collapsed during a performance at Servite High School in Anaheim, authorities said.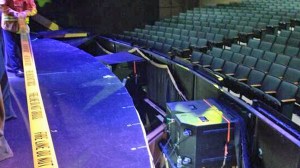 More than 250 students from Rosary High, an all girls Catholic school in Fullerton, were on the stage performing "Red & Gold" when it gave away, according to Lt. Tim Schmidt of the Anaheim Police Department.
Hundreds of people were inside the auditorium watching the performance and witnessed the incident.
The Orange County Fire Department responded to the scene and treated the students.
Fire officials said 24 people were taken to area hospitals with minor to moderate injuries, including broken bones.
Rosary and Servite high schools released a joint statement saying, "Our thoughts and prayers are with the students and their families."
Shortly after the incident occurred, Anaheim police tweeted that they were responding to the scene along with a picture of the stage.
"Early investigations suggest the front of the stage gave out due to weight," Schmidt told the Los Angeles Times.
APD on scene at Servite HS for stage collapse.

— Anaheim PD (@AnaheimPD) March 9, 2014