This is an archived article and the information in the article may be outdated. Please look at the time stamp on the story to see when it was last updated.
More than 800 federal and local law enforcement officers cracked down on suspected gang members and affiliates of the Mexican Mafia in Orange County, leading to dozens of arrests, authorities announced Tuesday.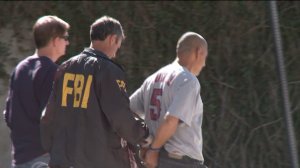 Officers with the multiagency Santa Ana Gang Task Force searched about 70 locations in early-morning raids, bringing a conclusion to an operation that began in May 2010 and led to the indictment of 129 defendants, according to the Orange County District Attorney's Office.
The task force had originally focused on the crime-plagued southeast section of Santa Ana, but widened its scope to  after local gangs were tied to the Mexican Mafia, the DA's office said in a news release.
The defendants are believed to be linked to the Mexican Mafia, or Eme, which is said to control local Latino street gangs and oversee the flow of drugs and other illegal activity in local jails and the state prison system, according to the task force. In prisons, the Mexican Mafia controls Hispanic inmates from Southern California, the DA's office said.
Most of the suspects are alleged gang members who trafficked in drugs and guns and paid "taxes" or "rent" to the Mexican Mafia, according to the task force.
Those who don't pay can assaulted or killed in prison, said U.S. Attorney for the Central District of California Andre Birotte Jr.
"They exercise control over these gangs by letting them know … that, look, at some point you're going to go to prison," Birotte said. "When you go to prison, you're going to need protection, so you're going to pay these taxes so that you can get protection when you and other members in your gang go to prison. That's one method by which they're able to exert that control."
The defendants are charged at either federal or state level with racketeering, conspiracy to committee murder, extortion, and drug and gun trafficking, the DA's office said.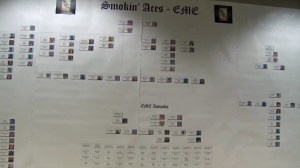 Two indictments allege two separate large drug rings in which defendants are accused of distributing methamphetamine and heroin.
The multiagency effort, dubbed "Operation Smokin' Aces," included the FBI, Santa Ana police, the Orange County Sheriff's Department, and the Bureau of Alcohol, Tobacco, Firearms and Explosives, and the California Department of Corrections and Rehabilitation.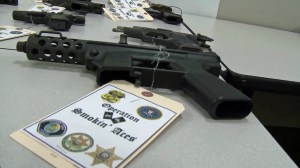 During the course of the operation, authorities seized 67 firearms — five of which were linked to drive-by or walk-up shootings in Santa Ana — 22 pounds of methamphetamine, 1 1/2 pounds of heroin, and 3 pounds of cocaine, according to the task force.
The Mexican Mafia in Orange County has been run for many years, according to the task force, by Peter Ojeda, who allegedly ordered murders and assaults on behalf of the criminal organization. Ojeda is not charged in the indictments announced Tuesday, but he is awaiting trial in a separate racketeering case filed in 2011, the task force said.