This is an archived article and the information in the article may be outdated. Please look at the time stamp on the story to see when it was last updated.
A driver was arrested for DUI Sunday after their car overturned in front of a Riverside condominium, damaging the building and its gas main.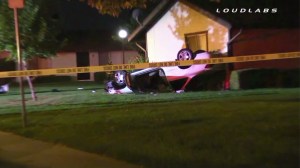 Riverside City Fire and the Riverside Police Department responded to a call that a vehicle crashed into a building in the 4300 block of Jackson Street (map) around 11:30 p.m. Saturday.
Responding officials found that the car had sheared off a fire hydrant before colliding with a condo and damaging a gas main, Riverside County Fire Battalion Chief Perna said.
A tenant of the condo who was sitting against the wall that was struck by the car said the impact caused his bed to be knocked across his bedroom.
"It scared me. I heard it. I heard the tires screeching and then I heard a big bang when he hit the fire hydrant but then I wasn't thinking that he was actually going to hit my house," Michael Russell said.
The driver was treated by paramedics for unknown injuries and taken to a local hospital, Perna said.
The driver was later arrested for driving under the influence, according to Riverside police.
Fire officials were waiting for the gas company to arrive and turn off the gas as of midnight, Perna said.
KTLA's Dave Mecham contributed to this report. 
Correction: This article originally stated that the building was an apartment.