This is an archived article and the information in the article may be outdated. Please look at the time stamp on the story to see when it was last updated.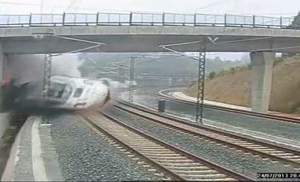 The driver of a train that derailed in northwestern Spain last week, killing 79 people, was on a phone with railway staff when the train crashed, the superior tribunal of Galicia announced Tuesday, citing information from data recorders.
The driver, Francisco Jose Garzon, was charged earlier this week with 79 counts of homicide by professional recklessness and an undetermined number of counts of causing injury by professional recklessness.
Also Tuesday, the tribunal announced that the train was going 153 kph (95 mph) when it derailed.
Click here to read the full story on CNN.com.