This is an archived article and the information in the article may be outdated. Please look at the time stamp on the story to see when it was last updated.
A man was hospitalized after being rescued from a car that plunged off a cliff in Palos Verdes Estates and landed in the ocean early Friday morning, authorities said.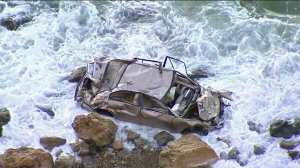 The incident happened in the 1300 block of Paseo Del Mar around 2 a.m.
After receiving reports of a vehicle over a cliff, officers responded and found a small compact car in the water, about 300 feet below the cliff, according to Palos Verdes Estates police.
The driver, identified only as a 19-year-old man from Rolling Hills Estates, was able to get rescuers' attention by moving a light, possibly a cellphone, authorities said.
It took emergency personnel about an hour and a half to rescue the driver, who became unconscious, according to the Los Angeles County Fire Department.
A helicopter was brought in to hoist the man out of the car and transport him to the hospital, officials said. His exact condition was not known, but he was awake and talking to officers at the hospital, police said.
The man said he drove off the cliff on purpose, according to paramedics; however, investigators did not immediately confirm that information.
Workers were using a tow truck to pull the vehicle out of the water – a task that was expected to take approximately eight hours, Sgt. Luke Hellinga said.
The Palos Verdes Estates Police Department was investigating the incident.
KTLA's Erin Myers and Juan Flores contributed to this report.