This is an archived article and the information in the article may be outdated. Please look at the time stamp on the story to see when it was last updated.
The driver of a pick-up truck that struck and killed a pedestrian in Corona del Mar was arrested on suspicion of driving under the influence, police said on Friday.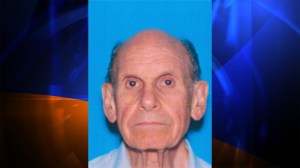 The collision on Pacific Coast Highway near Morning Canyon Road (map) was reported to police just before 9:30 p.m. on Thursday, according to a news release from the Newport Beach Police Department.
Police arrested 23-year-old Robert John Greaney, of Costa Mesa, on suspicion of DUI, Sgt. Corey Wolik of the Police Department said.
The victim was identified as Edward Salkin, 81.
He had suffered major injuries and was pronounced dead at the scene by paramedics, the release stated.
Salkin once taught pediatric dentistry at the University of Southern California and had a dentistry practice in Huntington Beach, according to an article featuring him in the Daily 49er in 2012.
Salkin was described in the article as a lifelong student who planned to graduate with a bachelor's degree in anthropology in 2016.
A receptionist who worked in an office near Salkin's practice was disheartened to be the one to call her colleagues with the news.
"I'm devastated. He is a man that's going to truly be missed and somebody who was a great, great person and really gave life to others because his was so full," Virginia Conarroe said.
Salkin loved his work and had agreed to perform dental work on Conarroe's son although she could not afford it, she said.
"He said 'don't worry, I do this because I love it,'" she said.
Anyone with further information about the crash was asked to call the Police Department at 949-644-3746.
KTLA's Ashley Soley-Cerro and Chip Yost contributed to this report.