This is an archived article and the information in the article may be outdated. Please look at the time stamp on the story to see when it was last updated.
STUDIO CITY, Calif. (KTLA) — Police on Monday were searching for the drivers in two separate hit-and-runs in the San Fernando Valley that left two men dead.
The first incident happened around 11:45 p.m. on Saturday on Ventura Boulevard east of Fairway Avenue in Studio City.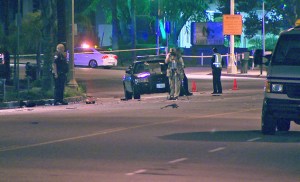 A possible white Mercedes-Benz CLS traveling eastbound on Ventura struck a pedestrian crossing northbound, according to police.
The victim, a 35-year-old resident of Santa Monica, was pronounced dead at the scene.
He was not immediately identified, pending notification of his next of kin.
The car may have had black paper plates with "Encino" written in yellow on them, police said.
It sustained major front-end damage, and was last seen traveling eastbound on Ventura Boulevard.
"It's very scary because cars are going too fast," said Barbara Lee, who works at a nearby bowling alley.
"It's very upsetting because you don't know who he was… It could be one of our family members, it could be somebody working here," she said.
The second hit-and-run happened around 1:45 a.m. on Sunday on Ventura Boulevard west of Kester Avenue in Sherman Oaks.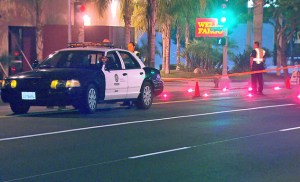 A car described as a silver, newer-model Hyundai Sedan was traveling westbound on Ventura when it collided with the open driver's door of a parked Ford Focus.
There were two pedestrians standing by the driver's door — a parking valet who was opening the door and the owner of the car, police said.
The driver of the Hyundai failed to stop to render aid and sped away westbound on Ventura.
The owner of the Ford Focus, a 22-year-old man from Van Nuys, was transported to the hospital with serious injuries and later died.
The valet driver did not suffer any serious injuries.
Anyone with information about either incident was asked to call LAPD Valley Traffic Division Officer Martinez at (818) 644-8032.
During non-business hours, calls may be directed to 1-877-LAPD-24-7.
Anyone who wants to remain anonymous can call Crimestoppers at 1-800-222-TIPS (8477).