This is an archived article and the information in the article may be outdated. Please look at the time stamp on the story to see when it was last updated.
Drivers in Los Angeles County were warned on Monday to be on the lookout for scam artists who stage collisions to collect insurance money.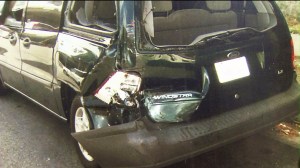 The so-called "swoop-and-squat" crashes, in which two vehicles work together to force a rear end collision, endanger motorists and lead to millions of dollars in insurance rate increases each year, according to District Attorney Jackie Lacey.
Lacey joined California Department of Insurance (DOI) Commissioner Dave Jones to announce that nearly $7 million in grant money from the DOI was to be earmarked for additional staff dedicated to cracking down the phony claims.
"Innocent drivers and their passengers are placed in harm's way every time one of these so-called 'swoop-and-squat' phony collisions occurs on our streets and highways," Lacey said.
Demonstrations were held at the Los Angeles Police Department's Emergency Vehicle Operations Center in Granada Hills on how drivers are set-up by the scam artists.
"Obvious signs are a situation where all of a sudden a witness materializes whose story absolutely corroborates what driver has talked about," Jones said.
Officials offered tips on avoiding these situations and offered advice on what to do if drivers suspect they are a victim of one of these collisions.
"Number one, insist on getting a police report. Number two, talk to the peace officer who responds to the scene and ask them to identify each of the individuals whose purporting to be a witness, purporting to be a driver, purporting to be a passenger," Jones said.
Anyone with information about a suspicious collisions was urged to call 1-800-927-help.