This is an archived article and the information in the article may be outdated. Please look at the time stamp on the story to see when it was last updated.
You only die twice — or so it seemed for Nazario Moreno Gonzalez, leader of Mexico's notorious Knights Templar drug cartel.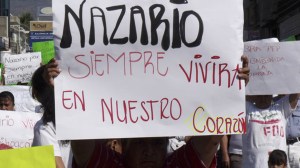 In December 2010, Mexican officials believed that they had killed Moreno, known alternately as "El Chayo" and "El Mas Loco" ("The Craziest"), in a shootout in the troubled state of Michoacan. His body was not recovered, however, and many locals doubted the story.
Since then, western Mexico has been rife with rumors that the charismatic leader had been seen. He has earned a cultlike following for preaching a cracked version of evangelical Christianity to go along with his cartel's extensive extortion and drug-running rackets.
On Sunday, the federal government again announced that it had killed Moreno, this time in a Sunday morning shootout in Michoacan. And this time, officials said, they have a body, and the fingerprints, to prove it.