This is an archived article and the information in the article may be outdated. Please look at the time stamp on the story to see when it was last updated.
A week after federal and local law enforcement officials raided more than a dozen businesses suspected of illegally selling nitrous oxide, investigators have turned up more.
Additional searches have found assault rifles, stolen guns, cocaine, cash and more nitrous oxide, federal prosecutors and the Los Angeles County Sheriff's Department announced Friday.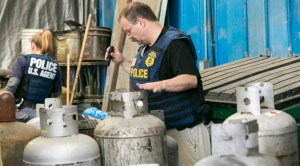 The announcement comes a week after law enforcement officers raided 17 businesses and nine delivery vehicles allegedly related to a crime ring that sold nitrous oxide – also known as laughing gas – for recreational purposes.
The raid was part of a 15-month operation called "No Laughing Matter."
The gas can be legitimately used for anesthesia and to boost the performance of sports vehicles, but authorities say it was being used as an inhalant for people attending parties and raves.
Officials said a 16-year-old's party was also shut down as part of the latest crackdown.