This is an archived article and the information in the article may be outdated. Please look at the time stamp on the story to see when it was last updated.
A search was underway Sunday for a hit-and-run driver who drove a dump truck into a corner store in South Los Angeles overnight, causing major structural damage to the building, authorities said.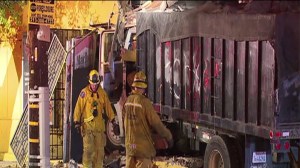 The collision occurred around 12:50 a.m. at the intersection of East 68th Street and Compton Avenue (map) in the Florence-Firestone neighborhood of South L.A., according to the California Highway Patrol's incident log.
The store's owner was inside when the dump truck crashed into the building, but he was not injured.
"I was close to the cash register and this right there goes by," Muhammad Dharabayi said, pointing to the truck, which was still inside the store in the hours after the collision occurred.
"The truck was in the store," he said, adding, "everything was moved around."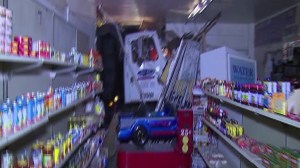 The driver of the vehicle left the scene following the crash, according to the CHP, which was trying to determine whether the dump truck had been stolen.
Dharabayi said he didn't see anyone get out of the truck since the driver's side was covered from his vantage point.
He added that the store was insured, as was the building it was in.
The sidewalk and one lane on Compton Avenue had to be temporarily closed while crews worked to get the dump truck out, according to the CHP.
Los Angeles County building inspectors were also outside the store on Sunday morning, assessing the damage and putting red-tape around the structure.
The cause of the crash was under investigation.
KTLA's Dave Mecham contributed to this report.