This is an archived article and the information in the article may be outdated. Please look at the time stamp on the story to see when it was last updated.
Cleanup efforts were underway in the Bay Area on Monday, one day after a magnitude-6.0 earthquake prompted Gov. Jerry Brown to declare a state of emergency.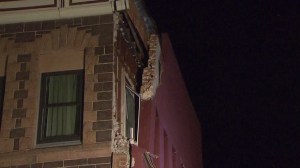 The earthquake, which struck around 3:20 a.m. on Sunday and was centered between Napa and American Canyon, left more than 200 hurt, destroyed at least four homes and damaged numerous buildings in the region. It caused somewhere between $500 million and $1 billion dollar, according to early estimates.
Dozens of aftershocks have hit the area, according to the U.S. Geological Survey.
While the activity was considered normal, a USGS seismologist warned that there could be dozens of aftershocks measuring up to magnitude-5.0.
"Indication so far is that the aftershock activity is somewhat as we would expect, which means that we will continue to have aftershocks. We may have even larger –even up to magnitude-4.0, or possibly even magnitude-5.0 – that would still be considered typical for this type of sequence," David Oppenheimer said on Sunday.
An estimated 70 buildings have been red-tagged in Napa, which was the area hardest hit by the temblor, authorities said at a Monday evening news conference.
"This means these buildings are unsafe to enter. … The city is asking no one to go inside of a red-tagged building" said Barry Martin, Napa's community outreach coordinator.
The number of structures that had been yellow-tagged, meaning caution was required, was approaching 200.
Some property owners could have avoided extensive damage by retrofitting their buildings, but chose not to, officials said.
"We passed an ordinance in 2006. … We warned property owners dozens of times," Martin said. "Not everyone listened."
USGS said the quake caused "significant" damage to south Napa County, a news release stated.
"It's just heartbreaking, but I think the city will rally, and the county," said Sarah Van Giesen, the secretary of Napa County Landmarks. "I think a lot of people are going to rally around and help us."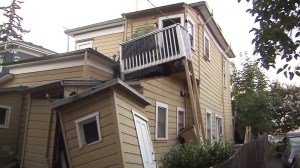 Inspection teams have been working around the clock to assess damages in the area, while power crews restored service to tens of thousands of residents who were left without electricity.
Crews were working to repair some 90 water lines that broke in the temblor, the city reported Monday.
PG&E crews also checked out approximately 100 reports of gas leaks and determined that there "no leaks" as of Sunday night, according to Napa city officials.
A number of roads in Napa were damaged in the quake and closed, but all city bridges were inspected and "deemed safe" to use, the city stated.
The quake appeared to have originated "on or just west of" the West Napa Fault, according to the USGS release.
Sunday's earthquake was the largest to hit the Bay Area in nearly 25 years.
KTXL's Marin Austin contributed to this report.
More Video: