This is an archived article and the information in the article may be outdated. Please look at the time stamp on the story to see when it was last updated.
A 4.2-magnitude earthquake struck the Fontana area in San Bernardino County Saturday morning, according to the U.S. Geological Survey.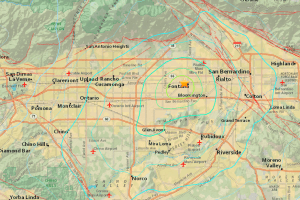 The quake hit around 5:45 a.m. about 1 mile east-southeast of Fontana, 3 miles west-northwest of Bloomington and 4 miles west of Rialto. USGS initially reported it was a 4.3 magnitude, but it was later downgraded to 4.2.
It hit at a depth of about 2.8 miles, according to USGS.
The temblor's epicenter was in a residential neighborhood less than a mile from the Fontana Metrolink station and about 3.5 miles from the Auto Club Speedway.
Dozens of people reported feeling the shallow quake in nearby areas of San Bernardino County as well as the Orange County cities of Santa Ana, Fullerton and Irvine, according to KTLA viewers.
One Twitter user described the quake as a "rude awakening."
"Quake jolted me off of my bed. I saw my TV about to fall and was able to catch it," Twitter user Luis Toro stated.
The temblor felt more like a 7.0-magnitude quake, KTLA viewer Maybelin Rodriguez stated on Facebook.
Dozens of other people, including San Bernardino County firefighters, said the early-morning quake woke them up.
Firefighters immediately began assessing damage in the area, department spokeswoman Chris Prater said.
"So far we were very fortunate this morning," Prater said. "The only thing we've found is very superficial damage to some structures, and we did have one report from of a residence that had some broken water pipes due to the earthquake."
Several smaller aftershocks were reported after the 4.2 temblor.
Earthquakes with one magnitude lower than the initial 4.2 could strike, and there was about a 5 percent chance that a larger earthquake could occur, said seismologist Jennifer Andrews with the California Institute of Technology.
Seismologists were working to determine which fault was responsible for the quake.
"It's not lining up directly with any of the known fault traces," Andrews said. "It's east of the San Jacinto (fault)."
The quake was described as a strike-slip shaker.
"That's a lateral sliding, a horizontal movement, basically, of the fault," Andrews said. "The rocks slide past each other on either side of the fault, so there's no vertical motion; it's not a thrust, there's no pushing up from the ground or pulling down."
People living near the temblor were urged to have an emergency kit and enough water to last them at least 72 hours, the Fire Department tweeted.
Disaster Preparedness – Are You Ready Los Angeles County http://t.co/hGnSD6kHBk Drop Cover & Hold On #laquake pic.twitter.com/sCg1AAQ9hZ

— LA County Sheriffs (@LASDHQ) July 25, 2015
More video: