This is an archived article and the information in the article may be outdated. Please look at the time stamp on the story to see when it was last updated.
A series of moderate earthquakes rocked the California-Nevada border, shaking residents in both states but producing no reports of major damage or injury.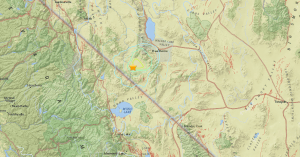 The first temblor, with a magnitude of 5.7, occurred at 12:22 a.m. PST near Hawthorne, Nev. It was followed by a second 5.7 quake and then more than 100 aftershocks.
Light shaking was felt as far away as South Lake Tahoe, Fresno, Visalia and Merced.
The U.S. Geological Survey said most of the responses to its "Did You Feel It?" website came from the Central Valley and Sierras. But residents reported they felt the quakes as far west as San Francisco and as far south as Bakersfield.
Click here to read the full story on LATimes.com.