This is an archived article and the information in the article may be outdated. Please look at the time stamp on the story to see when it was last updated.
LOS ANGELES, Calif. (KTLA) — After two years of renovations, Echo Park Lake was reopened Saturday during a glitzy ceremony.
Among those who attended the 10 a.m. gathering was Los Angeles city councilman and mayor-elect Eric Garcetti.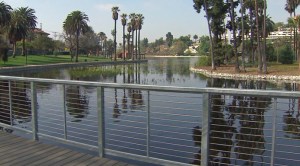 The lake was originally built in the 1860s as a reservoir for drinking water.
It later became a detention basin in the city's storm drain system, while providing recreational benefits and a wildlife habitat.
But after years of abuse and neglect, the lake was identified by the State of California as an impaired water body in 2006.
The city closed the lake in 2011 for a $45 million rehabilitation project funded by Prop O, which was approved by voters in 2004.
During the project, the L.A. Department of Public Works drained the lake so crews could remove the overgrown algae and trash that residents dumped including skateboards, three guns,  furniture and a toilet.  However, no bodies were found.
The upgraded lake featured water fountains, fresh grass and the addition of a variety of native plants.
The city set up a website to keep residents informed on the status of the rehabilitation project.
Echo Park Lake is one of Los Angeles' historic landmarks.