This is an archived article and the information in the article may be outdated. Please look at the time stamp on the story to see when it was last updated.
Authorities in El Monte are asking for the public's help in finding an elderly man who suffers from Parkinson's disease and has reportedly been missing since Oct. 22.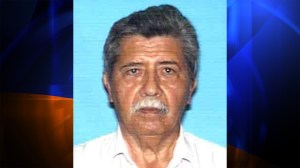 Victor Eusebio Carrera, 76, was last seen at 11 a.m. Tuesday, the El Monte Police Department said in a news release.
Carrera takes several prescribed medications, authorities said.
He is 5 feet, 9 inches and 170 pounds, with brown hair and brown eyes, according to the release.
Anyone with information on his whereabouts was asked to call Detective Molina at 626-258-8643 or the El Monte Police Department at 626-580-2100.