This is an archived article and the information in the article may be outdated. Please look at the time stamp on the story to see when it was last updated.
A police corporal has been credited with helping to save the life of a toddler who was choking on a small piece of candy, the El Monte Police Department said Monday.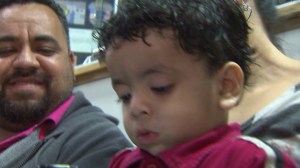 Corporal Aram Choe and his partner quickly responded on Sunday morning to a medical emergency on the 11500 block of Medina Court in El Monte (map), according to a press release from police.
When the officers arrived, they saw that two-year-old Hugo Sanchez could not breathe. His father also said the boy was turning purple.
Choe immediately took the toddler and tried to clear the young boy's airway, according to authorities.
His efforts worked, as the hard candy fell out of the child's mouth, police said.
Sanchez was taken to a local hospital for a medical evaluation and checked out fine.
KTLA's Doug Kolk contributed to this report.