This is an archived article and the information in the article may be outdated. Please look at the time stamp on the story to see when it was last updated.
The Los Angeles Unified School District is facing a molestation lawsuit brought by three former students of El Sereno Elementary School.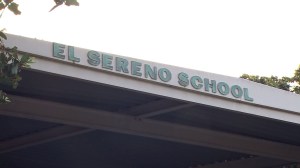 Armando Gonzalez, the teacher named in the lawsuit, last taught at the school three years ago, according to principal Cheryl Morelan.
Gonzalez, who taught 4th and 5th grade, is accused of "sexual harassment, molestation and abuse" involving the three alleged victims between 2008 and 2010.
School district officials were aware that Gonzalez was unfit to teach before he was hired, the lawsuit states, based on incidents of touching, fondling and kissing girls on the lips as early as 2007.
Officials either concealed or failed to disclose the information to parents, according to the lawsuit, which was filed Wednesday in Los Angeles County Superior Court.
None of the three plaintiffs reported the alleged abuse until recently. It was not immediately clear if the Los Angeles Police Department was investigating the matter.
The school district moved to fire Gonzalez last year for alleged misconduct, district spokesman Sean Rossall told the Los Angeles Times, but the teacher fought the attempted termination before resigning last week.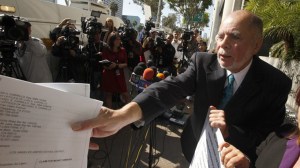 "We have consistently refused to settle on this and aggressively pursued the dismissal until he resigned," Rossall said.
Many parents were hearing about the accusations for the first time Thursday morning as they dropped off their children at El Sereno Elementary.
"I just found out. I'm shocked," said Yvette Paz, whose daughter attends the school. "I don't know what to say."
Paz added that her daughter "just started school so I'm not worried about it, but … [for] the other kids, that's just scary. I mean, it's everywhere and it's sad that it's everywhere."
Attorney Luis Carrillo, who filed the lawsuit, was expected to hold a news conference Thursday morning.
Los Angeles schools Superintendent John Deasy declined to comment when contacted by KTLA.