This is an archived article and the information in the article may be outdated. Please look at the time stamp on the story to see when it was last updated.
Democratic presidential candidate Bernie Sanders held two rallies in the Los Angeles area Monday as he continues his campaign swing through California ahead of the June 7 primary.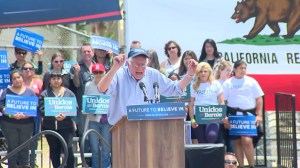 The first of two events was held at Lincoln Park, which is located in the 3501 Valley Blvd. in Lincoln Heights, according to a news release from the Sanders campaign.
Doors opened at 9 a.m., with long lines to get in forming before then, video from the scene showed.
"Our campaign … is a grassroots campaign, not a fancy campaign," Sanders told his supporters at the park.
He was introduced by actress Rosario Dawson.
The second event got underway around 7 p.m. on the football field at Santa Monica High School on Pico Boulevard.
Thousands of supporters could be seen crowding onto the field before the event began, video showed.
Sanders, who is trailing Democratic frontrunner Hillary Clinton as the presidential primary season draws to a close, campaigned in Southern California Sunday with stops in Irvine and Vista.
KTLA's Melissa Pamer and Kennedy Ryan contributed to this article.