This is an archived article and the information in the article may be outdated. Please look at the time stamp on the story to see when it was last updated.
GOP gubernatorial candidate John Cox strolled up to the stack of 12 boxes in front of the Los Angeles County registrar-recorder's offices in Norwalk on Monday and placed his hands on top of his party's hope for success in 2018.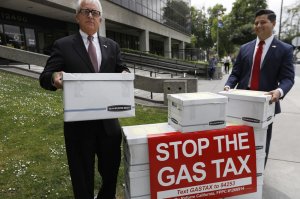 The boxes, stacked four across and three high, contained 211,000 signatures for an initiative to repeal recent increases in California's gas tax and vehicle fees.
Cox says the effort has gathered more than 940,000 signatures from registered voters to put the measure on the ballot — far more than the 585,407 signatures that are required.
The aim: to bring out the party's base to the polls this November and help candidates in tough congressional and legislative races down the ticket.
Read the full story on LATimes.com.