This is an archived article and the information in the article may be outdated. Please look at the time stamp on the story to see when it was last updated.
In the first statewide election to test California's top-two primary system, Gov. Jerry Brown easily won his bid to appear on the November ballot, as did other state-level Democratic incumbents.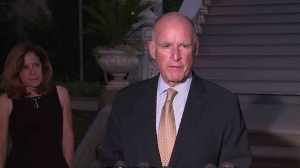 By the end of the night, with more than half of the state's precincts at least partially reporting, Brown held 55.1 percent of votes. Republican Neel Kashkari, with about 18.2 percent of votes, was expected to face the governor on Nov. 4.
Assemblyman Tim Donnelly, in third place with about 14.8 percent of the vote, conceded shortly before midnight, the Los Angeles Times reported.
LIVE ELECTION RESULTS: Get complete data on election returns here
Before voters on Tuesday were state offices, from governor to insurance commissioner, as well as congressional and legislative seats.
The Times called the race in favor Democratic incumbents Brown, Lt. Gov. Gavin Newsom, state Attorney General Kamala Harris, and Insurance Commissioner Dave Jones. All four will face Republican challengers in the general election.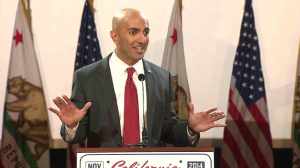 Speaking to reporters on Tuesday evening, Brown said he takes "nothing for granted" with regard to the Nov. 4 contest.
"California has come a long way in the last few years," Brown said. "We've closed a massive budget deficit. We have good relations between the two parties, working on significant issues."
At his Corona del Mar election party, Kashkari spoke before cheering supporters and said the early returns were encouraging.
"We're not going to pre-judge everything, every vote counts … but we really feel very encouraged," Kashkari said.
In Southern California, voters were also weighing countywide offices, some of the them hotly contested, including that of sheriff of Los Angeles County, and two seats on the county's powerful Board of Supervisors.
By the end of the night, Long Beach Police Department Chief Jim McDonnell had held his early commanding lead in his bid for sheriff, with about 47.5 percent of the vote. Former Undersheriff Paul Tanaka was in second place with 15.1 percent of the vote, followed by former sheriff's Commander Bob Olmsted with about 9.7 percent. Seven candidates were vying for the job.
McDonnell was greeted by police bagpipe players and drummers at a celebratory election party in downtown Los Angeles.
"I'm kind of walking on cloud nine," McDonnell said.
News media were not allowed inside Tanaka's election party in Gardena, where he long served as a city councilman.
In the race for the Third District seat on the Board of Supervisors, former assemblywoman and state Senator Sheila Kuehl had about 36 percent of the vote, followed by former Santa Monica Councilman Bobby Shriver with 29.3 percent, and West Hollywood Councilman John Duran with about 15.6 percent. Five others were also running.
In the First District, former Labor Secretary Hilda Solis looked assured of a seat on the board. She had about 70.3 percent of votes in early returns, and needed only 50 percent or more to avoid a runoff in the nonpartisan race.
Several congressional contests were drawing intense competition as well, including the seat that has been held by retiring Rep. Henry Waxman for some 40 years. Eighteen candidates were vying to replace Waxman, whose district stretches from Palos Verdes to Malibu and includes Beverly Hills.
Republican Elan Carr, a county gang prosecutor, held a surprise lead in the initial figures for the heavily Democratic district — an advantage that held through the end of the night.
Carr had about 22.5 percent of the vote. He was followed by state Sen. Ted Lieu of Torrance, who had 20.1 percent in early returns. Former Los Angeles Controller Wendy Greuel had 17.2 percent.
Get election return data directly from county registrars of voters here:
In Los Angeles County, turnout appeared to be low.
The first ballot count showed a turnout rate of 18.78 precent of registered voters, according to the Los Angeles County Registrar-Recorder/County Clerk. In the 2010 primary, turnout was just under 23.5 percent in the county.
Low turnout had been expected, despite the implementation of a new system that was intended to encourage election participation — the so-called "jungle primary." First used in congressional races before voters in 2012, the top-top primary system was approved by voters in 2010.
The new voting method pits all candidates against each other, regardless of their political party affiliation; the two top finishers facing each other in the general election, this year on Nov. 4.
The June 3 primary marks the first time candidates for the governor's seat and other state-level offices have been subject to the top-two system.
For most Democratic incumbents at the statewide level, the top-two system marked little change in campaign behavior: candidates have generally waited to see who they will face in the general election.
Brown, seeking his fourth term, was expected to face off with one of two Republicans who had been running close together in recent polls. Tea party favorite Donnelly, from Twin Peaks in San Bernardino County, was battling Kashkari, an investment banker from Laguna Beach who oversaw the bank bailout as an interim assistant Treasury secretary in 2008 and 2009.
But in the open seats — controller and secretary of state — politicos were watching closely to see who would emerge from the election fight.
The Times called the top two in the secretary of state race. State Sen. Alex Padilla, a Democrat and former councilman in Los Angeles, had 29.8 in early returns, while Republican Pete Peterson, executive director of a public engagement institute at Pepperdine University, had 29.3 percent.
Fresno Mayor Ashley Swearengin, a Republican, was running for controller and offered perhaps the GOP's best hope of regaining a state office; she faced two well-known Democrats, Board of Equalization member Betty Yee of the Bay Area and John Perez, an assemblyman from Los Angeles who was the lower house's speaker from 2010 until May.
Early results showed Swearengin leading the other two candidates, with a surprise second-place candidate ahead of both Yee and Perez. After Swearengin's 23.4 percent, David Evans, a certified public account and Republican from California City, had 22.8 percent of the vote.
Current Controller John Chiang finished first in his race for state treasurer, with about 55.1 percent of the vote in early returns; he will face Republican Greg Conlon, who earned about 38.5 percent of the vote, in the general election.
Two ballot measures were before California voters as well. Both passed, according to The Times.
Proposition 41 would put $600 million in bonds toward rental housing for low-income veterans; Proposition 42 would require local governments to continue to comply with state open government and public records laws despite no longer getting reimbursed by the state for related expenses.
The race for state schools chief is nonpartisan and not subject to the top-two system, so Superintendent of Public Instruction Tom Torlakson was indeed campaigning in recent weeks against reformer Marshall Tuck, who ran charter schools in the Los Angeles area.
Torlakson was well ahead in initial returns, with 48.4 percent of votes. Tuck had 27.7 percent.
Correction: An earlier version of this story incorrectly described John Perez's role in the Assembly. San Diego Assemblywoman Toni Atkins replaced Perez as Assembly speaker in May 2014. The story has been updated.