This is an archived article and the information in the article may be outdated. Please look at the time stamp on the story to see when it was last updated.
Kevin de León announced Sunday morning that he would challenge veteran US Sen. Dianne Feinstein, saying he'll stand for a wing of the party that feels she no longer represents the progressive makeup of the state's Democratic Party and has not aggressively challenged the policies of President Donald Trump.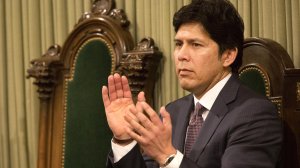 The bold move by de León, the state senate president pro tempore who is termed out next year, set up an internecine battle within the Democratic Party that some fear could draw attention and resources away from the seven competitive House races that could flip control of the US House of Representatives to the Democrats.
But de León represents the younger generation of California Democrats who have been frustrated by Feinstein's mild criticism of Trump and the lack of opportunity for higher office because of the lengthy tenure of figures like Feinstein, House Speaker Nancy Pelosi, Gov. Jerry Brown and former Sen. Barbara Boxer (who retired and was replaced by Sen. Kamala Harris last year). Feinstein will be 85 at the time of next year's election.
In a video statement released Sunday morning, de León said that in his three years as the state senate leader he had worked to infuse "progressive California values in important policy efforts like immigration, women's rights, quality education, civil rights, job creation and fighting climate change."
"We now stand at the front lines of a historic struggle for the very soul of America, against a President without one," de León, who is 50, said in his video statement, taking aim at Trump. "Every day, his administration wages war on our people and our progress. He disregards our voices. Demonizes our diversity. Attacks our civil rights, our clean air, our health access and our public safety. We can lead the fight against his administration, but only if we jump into the arena together."
CNN previously reported his plans to run for the seat.
Like Harris, De León has been far more aggressive than Feinstein in his criticisms of Trump, and his political allies say he feels that California needs another senator who could actively challenge Trump in the US Senate.
Feinstein has declined to back calls to impeach Trump and said earlier this year that she believed that Trump could "learn and change" and could "be a good President." When she called for "patience" with his presidency during an appearance at the Commonwealth Club, de León issued a sharp and unusual rebuke of the veteran senator.
"I don't think children who breathe dirty air can afford patience," he said in response to her comments. "The LGBT worker or woman losing their rights by the day or the black student who could be assaulted on the street, they can't afford patience. 'Dreamers' who are unsure of their fate in this country can't afford patience."
As Feinstein weighed whether to run for a sixth term, many of California's top Democrats urged de León not to run. When she announced her re-election campaign on Monday, many top Democrats — including Harris, Boxer, Lt. Gov. Gavin Newsom, and Los Angeles Mayor Eric Garcetti — quickly closed ranks around her.
De León, who represents a diverse district that includes much of eastern Los Angeles, faces huge hurdles both in fundraising and his lack of name recognition across the state. Feinstein has the ability to self-finance her campaign, and she is actively raising money for her bid, netting about $100,000 at a recent event in Los Angeles.
Still de León's allies believe that he may be able to tap into a national network of donors who want to see the party go in a more progressive direction.