This is an archived article and the information in the article may be outdated. Please look at the time stamp on the story to see when it was last updated.
Thousands of Anti-Donald Trump protesters peacefully marched from MacArthur Park to downtown Los Angeles Saturday, as demonstrations continued across the country.
The march began at the park, located at 2230 West 6th St., at 10 a.m. and ended at the U.S. Federal Building in downtown, where demonstrators flooded the streets and blocked traffic more than an hour after it was slated to end.
Although the event garnered the highest turnout of any such anti-Trump protest since Tuesday's presidential election, zero arrests were made and no vandalism was reported, according to the Los Angeles Police Department.
About 10,000 people were expected, and at least 8,000 protesters gathered, a Los Angeles Police Department officer told the Los Angeles Times.
Demonstrators began to congregate at the park about 9:30 a.m., including Todd Stephens, of Rancho Cucamonga.
"I would hope that this is a peaceful expression of our freedom of speech," Stephens said. "I hope it sends a message to those back east in Washington that not everyone is going to be content with all-right all-Trump presidency."
Union del Barrio, a nonprofit organization in the area, was the main organizer of the event, but more than two dozen others participated.
"Join together to march to show Trump that L.A. will not allow his racist/fascist attacks on the working class," the organization wrote on the Facebook invite. Another protest, organized by Brand New City, was scheduled for 11 a.m. at 1384 East 56th St. in Los Angeles.
Most in attendance said they wanted to speak out against the exclusionary policies Trump campaigned on.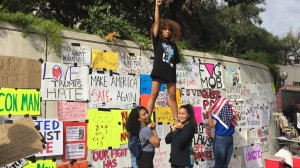 "We want a united country that stands against homophobia, racism, sexism, xenophobia," protestor Jamie Holt told KTLA.
Attendee Rachel Mintz said she felt it was important to speak up for the rights of groups Trump has promised to disenfranchise.
"I don't feel like my life is so much at risk as a lot of other people, like minorities and the LBGTQ community," she said. "People are afraid for their lives, so I'm here for them really."
A small group of Trump supporters, including Gerald Pitts, also turned out to defend the president-elect.
"The process has been done," Pitts said. "We all need to get together and stop all this anarchy stuff, marching up and down the streets and upsetting people. It doesn't make any sense to me."
But protesters like Mintz said the group was more upset with Trump's refusal to recant the inflammatory and divisive rhetoric he unleashed into the American political sphere than the election's results.
"He needs to address the protesters," Mintz said. "Maybe not tweet about it, maybe actually say something."
Others such as Kree Cole-McLaughlin continued to feel Trump's personality, values and disposition make him unfit to lead our nation.
"This guy is not a decent human being and he has lied and deceived and duped more than half the population into believing him," McLaughlin said .
LAPD blocked freeway entrances throughout the day to prevent the rally from creating another shutdown.
Nearly 200 protesters were arrested in another downtown demonstration overnight. That protest marked the fourth night of unrest following the election.
By nightfall the group had returned to the steps of City Hall, where roughly 100 continued to protest peacefully. However, some demonstrators turned rowdy overnight, and five arrests were ultimately made.
Protesters with #United Against Hate march to the Federal Building to protest the election of Donald Trump in LA. #antitrumprally pic.twitter.com/XLeDGWprEm

— Genaro Molina (@GenaroMolina47) November 12, 2016
https://twitter.com/Tera__LA/status/797528611662110720
https://twitter.com/jasonfarone/status/797516080755265536
Large crowd of protesters marching toward downtown LA. #UnitedAgainstHate @latimes @latimesphotos pic.twitter.com/GqBWwVl7FQ

— Francine Orr/LATimes (@francineorr) November 12, 2016
Large crowd of protesters marching up Wilshire toward downtown LA. @latimes @latimesphotos pic.twitter.com/AdnQlptYqH

— Francine Orr/LATimes (@francineorr) November 12, 2016
Waving signs above the 110 fwy in #DTLA #antitrumprally pic.twitter.com/JEm3ZQOPfZ

— Ruben Vives (@LATvives) November 12, 2016
Pausing for a minute to chant at Valencia Street and Wilshire blvd. #antitrumprally #DTLA pic.twitter.com/O1FfjsZwcy

— Ruben Vives (@LATvives) November 12, 2016
Michelle Ayres, 50, and others have started to arrive at the protest at MacArthur Park in LA. pic.twitter.com/YzFcCf7Tsq

— Francine Orr/LATimes (@francineorr) November 12, 2016
In the midst of a massive protest in downtown Los Angeles, an LAPD officer takes a quiet moment to play baseball with a kid. pic.twitter.com/VOe3TZabdN

— Steve Kuzj (@SteveKuzj) November 12, 2016