This is an archived article and the information in the article may be outdated. Please look at the time stamp on the story to see when it was last updated.
It surprised no one last fall when Los Angeles and California at large overwhelmingly backed Hillary Clinton in her failed bid for the presidency. Just seven of the city's 1,700 precincts went for Donald Trump.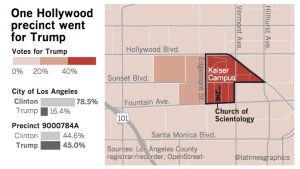 But while nearly all of the surrounding region voted for the Democratic former secretary of state, one little chunk of Hollywood best known for the Church of Scientology's "Big Blue" complex went red, picking the Republican billionaire instead.
The precinct, wedged between Hollywood Boulevard and Fountain Avenue, tipped to Trump by just three votes, 347 to 344. It marked the first time since at least 2000 that the area went Republican. In 2012, President Barack Obama defeated Gov. Mitt Romney by 81 votes, 316 to 235.
"I honestly can't begin to fathom how or why that happened," said Erin Lee, a precinct voter and one of several Clinton supporters who said they were shocked to learn that Trump had carried their neighborhood.
Click here to read the full story on LATimes.com.