This is an archived article and the information in the article may be outdated. Please look at the time stamp on the story to see when it was last updated.
Voters in Los Angeles County cast ballots to elect a new sheriff, assessor and member of the powerful Board of Supervisors on Tuesday.
LIVE ELECTION RESULTS: Notable local races; Raw county data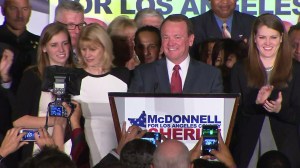 After several years of scandal, the Los Angeles County Sheriff's Department was set to be led Long Beach Police Chief Jim McDonnell, a former assistant chief in the Los Angeles Police Department, who declared victory over former undersheriff Paul Tanaka.
With 38.6 percent of precincts reporting, McDonnell had a commanding 74.6 percent of votes to Tanaka's 25.4 percent.
Speaking at an L.A. Live victory party alongside his family and many city and county elected officials, McDonnell thanked his supporters, calling himself "sheriff elect."
"In past years, the department's leadership have let down our community, as well as its own deputies. Both deserve a new day," McDonnell said. "It's time to repair our public's trust and restore morale within our department, and those will be top priorities as your new sheriff."
Sheriff Lee Baca stepped down in January after 15 years on the job; since then, interim Sheriff John Scott has led the troubled 18,000-employee department, which is the subject of an ongoing federal investigation into inmate abuse at county jails.
Tanaka, a longtime city councilman in Gardena who left the department in 2013, was implicated in a scathing 2012 report from a county jail violence commission that included McDonnell among its panelists. He has also acknowledged he is the subject of a federal grand jury investigation.
McDonnell was considered the frontrunner, and he will be the first sheriff elected from outside the department, according to the Los Angeles Times.
McDonnell earned 49.1 percent of the vote in the seven-man June primary. Tanaka came in second with 14.7 percent.
Hilda Solis, former congresswoman and U.S. labor secretary, spoke at McDonnell's victory party. Solis is set be sworn in as county supervisor in January after having won retiring Gloria Molina's First District seat in the June primary.
Meanwhile, on the Westside, in Malibu and in the San Fernando Valley, voters were weighing who would replace retiring Zev Yaroslavsky, the longtime representative of the Third District on the Board of Supervisors.
Former state Senator and Assemblywoman Sheila Kuehl was facing off with Bobby Shriver, a Kennedy family scion and former city councilman in Santa Monica.
Kuehl was leading with about 14.7 percent of precincts reporting. She had 51.5 percent to Shriver's 48.5 percent.
The two, who emerged from a crowded field of candidates seeking the coveted board seat in the June primary, have engaged in a confrontational battle, the Times reported. Kuehl earned 36.2 percent of primary votes, while Shriver received 28.8 percent.
Two others are competing in the countywide race to replace disgraced one-term Assessor John Noguez, who is facing criminal bribery charges. He has remained in office and continues to earn a salary despite the criminal case against him.
West Hollywood Councilman Jeffery Prang was brought in by Prang as a special assistant in the assessor's office amid the bribery scandal. Prang is competing with John Morris, a prosecutor in the L.A. County District Attorney's Office.
In early returns, Prang was leading. With 38.6 percent of precincts reporting, Prang had 51.3 percent of votes to Morris' 48.7 percent.
County voters were also weighing a $23 special parcel tax, Measure P, which would fund parks. It has come under criticism for being placed on the ballot by the Board of Supervisors just days before the deadline with little opportunity for voters to comment.
Measure P had nearly 62 percent of the vote in early returns.
More Videos: