This is an archived article and the information in the article may be outdated. Please look at the time stamp on the story to see when it was last updated.
Police and administrators at Van Nuys Elementary School were investigating an incident on campus Monday that triggered an emergency evacuation.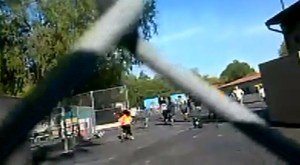 The issue apparently involved a teacher's aide who may have suffered a mental breakdown, according to witnesses.
The woman, identified as Linda Hovanec, arrived at school Monday morning, jumped out of her car and ran onto campus, parents said.
"We saw the car here with the door open and I called the school… 'everything is fine, don't worry,'" parent Blanca Cardenas said.
But Cardenas said what she saw on campus was far from fine.
Hovanec allegedly banged on classroom doors, threw papers in the air and climbed on top of a table, witnesses said.
"Due to a safety concern we had to contact school police, Los Angeles Fire Department, and the paramedics," stated a phone message left for parents by Principal Franne Goldstein following the incident.
Hovanec was transported to the Van Nuys police station where she was booked on suspicion of assault, according to Sgt. Steve Gottschalk.
"Those involved were treated for non life-threatening injuries and the employee will not be returning to our school," administrators said in a letter sent home to parents Monday.
KTLA's Christina Pascucci and Mary Beth McDade contributed to this story.