This is an archived article and the information in the article may be outdated. Please look at the time stamp on the story to see when it was last updated.
SIMI VALLEY, Calif. (KTLA) —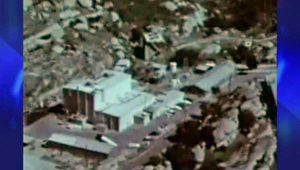 More than five decades after a partial nuclear meltdown at a former rocket test facility in Ventura County, radioactive contamination still exists in the soil.
In 1998, the Santa Susana Field Laboratory was the site of 10 reactors, one of which had a partial meltdown.
On Wednesday, the EPA presented the findings of a three-year, $42 million study to investigate radioactive pollution at the former lab.
The study found that some samples of surface soil at the site exceed standards outlined in a 2010 agreement between state and federal agencies.
Technicians collected 3,735 soil samples from a corner of the 2,850-acre hilltop lab where most of the testing was done.
Of those, they found that 500 contained concentrations of radioactive materials exceeding background levels — or the levels occurring naturally in the environment.
Most of those samples contained Cesium-137, and there were also 153 samples of Stromium-90. Both radioactive elements are considered harmful to human health when present at high levels.
One sample of Cesium-137 reached levels up to 1,000 times the background standard. And some Stromium-90 hits reached levels that were 284 times the background.
Department of Energy officials said there were some elevated hits, but that the results were mostly within the range expected.
In 2010, both the DOE and NASA agreed to adhere to strict state standards to decontaminate their portion of the property, which sits in the hills between Chatsworth and Simi Valley.
The majority of the land is owned by Boeing, which acquired it when it purchased Rocketdyne. Boeing later sold Rocketdyne, but retained the Santa Susana Field Lab property.
Along with the government, residents and activists say they want Boeing to clean up the toxic mess now.
They want cleanup done for the whole property to standards in line with state law SB 990 — the highest standards in the nation.
"They didn't make the mess, but they bought it knowing the mess was there," said resident Marie Mason. "It's time for them to step up to the plate and clean it up."
"Tonight, no one can deny that this place has been severely contaminated by the mishandling of the government and by Boeing's predecessors," said UC Santa Cruz Lecturer Dan Hirsch.
Last year, a federal judge sided with Boeing, which has argued that decontamination to the strictest state standards would destroy the natural resources on the site.
Both the state Department of Toxic Substances Control and the DOE will now work to complete a chemical characterization study. A decision document will then be developed to address cleanup.
The deadline for ridding the site of chemical and radioactive pollution is 2017 under the 2010 government agreement.